article
Ravinder Bhalla becomes first Sikh Mayor in New Jersey state despite racist campaign
By Barfi Culture Team
8th November 2017
---
Ravinder Bhalla was elected the Mayor for the city of Hoboken, New Jersey, last night, the first turbaned Sikh to hold that office in the city and the state.
He overcame a controversial campaign in which anonymous racist flyers calling him a 'terrorist' were circulated across the city.
Ravi Bhalla had already been on the city council for seven years and was endorsed by the outgoing Mayor Dawn Zimmer. The father of two children practices law and is also a civil rights activist.
"We've been through a bruising campaign... but now is the time we come together and see who we can work with to bring this city forward," he told supporters last night after his win.
Flyers claiming "Don't let Terrorism take over our town" were delivered to homes in the city just days before the election. But they were strongly disavowed by the Republican contender named in them.
Bhalla called them "troubling" but dismissed them saying "we won't let hate win".
Yesterday, a flyer w/ word "terrorist" above a pic of me was circulated in Hob. Of course this is troubling, but we won't let hate win. pic.twitter.com/Ri9xrYF4Al

— Ravinder S. Bhalla (@RaviBhalla) November 4, 2017
Ravi Bhalla was born and raised in New Jersey and won against five other candidates in the race.
He tweeted last night: "Thank you Hoboken. I look forward to being your Mayor! #TeamBhalla #FinishedStrong"
In other local elections across the U.S. last night, immigration lawyer Falguni Patel was elected to the school board in the town of Edison, New Jersey, in an election also marred by racism.
Flyers with a picture of Ms Patel and Chinese-American candidate Jerry Shi were found with "deport" and "Make Edison Great Again" stamped on them.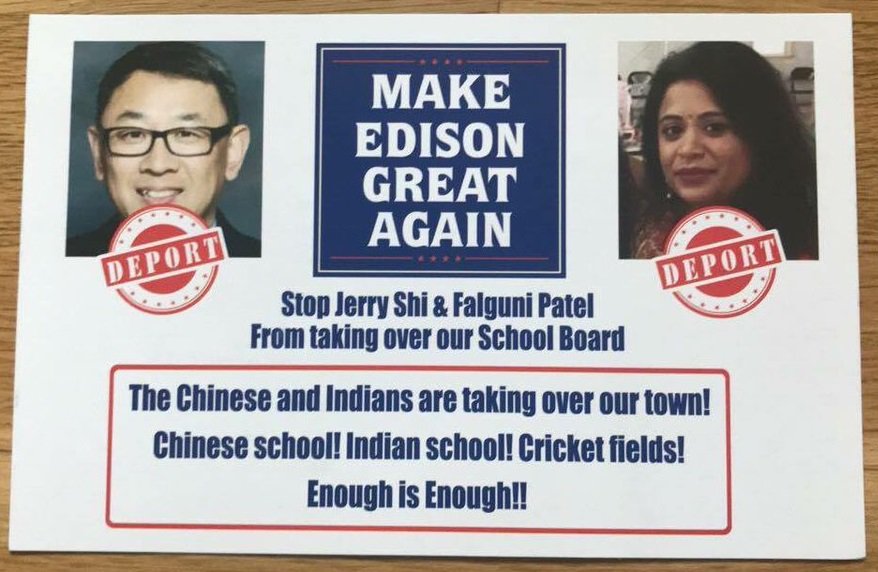 Shi also ended up getting elected. Former White House Cabinet Secretary Chris Lu
called it
a "Repudiation of Trumpian politics."
---
Get our weekly email on the desi diaspora
Barfi Culture
is a (recently launched!) news magazine, covering South Asians living in Europe and North America.
»
Balanced news, informative opinions
»
Celebrating our cultures
»
A platform for people
We publish daily. Get our email or find us on social media (tw: news; fb: culture; insta: images).
Find out more
|
Tell us your story