22nd January 2018 •
article
Hijabi model and stylist Amena Khan steps down from L'Oreal campaign after controversy over tweets
Image: Amena Khan YouTube
Last week Amena Khan made headlines worldwide for being the first hijabi model hired by a major cosmetics company for a hair-care campaign.
Today she announced she had stepped down.
In a statement posted to Instagram today
she wrote
:
"I deeply regret the contents of the tweets I made in 2014, and sincerely apologise for the upset and hurt they have caused. Championing diversity is one of my passions, I don't discriminate against anyone. I have chosen to delete them as they do not represent the message of harmony I stand for."
"I recently took part in a campaign, which excited me because it celebrated inclusivity. With deep regret I have decided to step down from this campaign because the current conversations surrounding it detract from the positive and inclusive sentiment that I set out to deliver."
Amena Khan had been chosen to be part the L'Oreal Paris campaign alongside with 15 other stylists and models for a hair campaign. The British stylist is well known on social media, with nearly 400K subscribers on YouTube and nearly 600K followers on Instagram.
Her videos feature a mix of focusing on beauty, make-up, home styling and her own life.
Although she did not specify which tweets caused the controversy, it is likely they related to her criticisms of Israel in July 2014. Some of these tweets were highlighted by critics on Twitter after Amena Khan's name circulated in the media.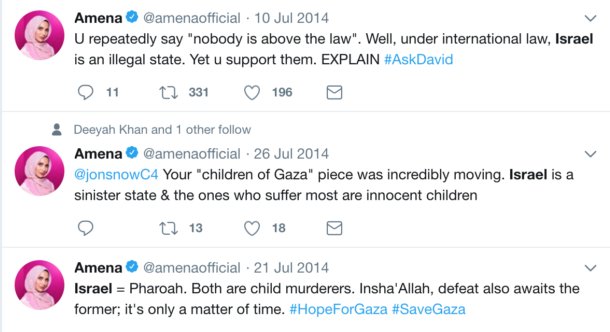 The tweets and screenshots were picked up by far-right media outlets in the U.S., including the
Daily Caller
.
But L'Oreal was also
criticised by the BDS Movement
for its "extensive involvement in business relations with Israel" in 2008.
Some of her followers on Instagram were dismayed by the decision.
"Please don't step down. You truly deserve this campaign. The past is the past, whatever tweets those were, that was 4 years ago. Every day people change, can you imagine the change that happens over period of 4 years. Please please please don't step down ," wrote Frostedamor.
Others criticised L'Oreal for the decision: "If @lorealmakeup @lorealhair @lorealpro are making you step down over some tweets made back in 2014 is absolutely pathetic. I was just thinking how L'Oréal has done one good thing hiring you! One company I was starting to like because they were different to others!" - wrote Neelam786.
But Amena Khan also got some support for her decision.
Miss_HannahMaria posted on Amena Khan's statement: "As someone who was truly hurt by discovering these tweets I am grateful that you both addressed them and apologized. Everyone makes mistakes and misinformation can lead to so many of them. While I don't think stepping down is required, I do respect it x"
About us
Barfi Culture is a news-magazine on people of South Asian heritage living in Europe and North America. We don't cover South Asia directly.
Sign up!
We publish Updates and Articles to our website every day. At 5pm every Monday - Friday we also post them to Twitter and WhatsApp. Weekly updates by email.
Email (weekly)

WhatsApp (once a day)
Your number will never be shared.

Facebook (daily)

Instagram (daily)