Blackburn and Pendle face restrictions after Coronavirus cases spike among Asian residents
Image: Google Maps
Two towns in Lancashire - Blackburn (with Darwen area) and Pendle - are facing new restrictions from today after Coronavirus cases spiked in recent weeks, especially among South Asians living there.
For the next month, only two people from the same family will be allowed to visit another household indoors and everyone must wear face masks in any enclosed public space. There are other restrictions too, detailed below.
Health officials warn that if people aren't more careful then both towns may have to go into a Leicester-style lockdown. That said, cases there aren't as high as those in Leicester.
'Mainly Asian areas'
Dominic Harrison
, Blackburn with Darwen's director of public health, on the BBC today called it a "rising tide event" rather than an "outbreak".
"We know they are mainly in South Asian areas and they're in areas with a high number of terraced houses with high numbers of occupants in the house — four or five or more. We've had 114 new cases [in Blackburn] in the last two weeks and about 97 of those are South Asian."
"What we are seeing from looking at the postcode data in the last two weeks is a single house being infected and and the whole household becoming infected creating household clusters in part of the town."
Dr Sakthi Karunanithi
, director of public health for Lancashire,
said in a statement
: "We need your help now to reduce the number of cases in the future and keep Pendle out of lockdown.
"It can feel like things are back to normal, but we are still in the middle of a pandemic and there is risk for the virus to come back."
Around 30% of the public in Blackburn with Darwen is from a non-white background. Around 20% of people in Pendle are non-white.
What are the numbers saying?
Blackburn with Darwen has 47 Covid-19 cases per 100,000 population in the last week — second only to Leicester's rate of 101.3.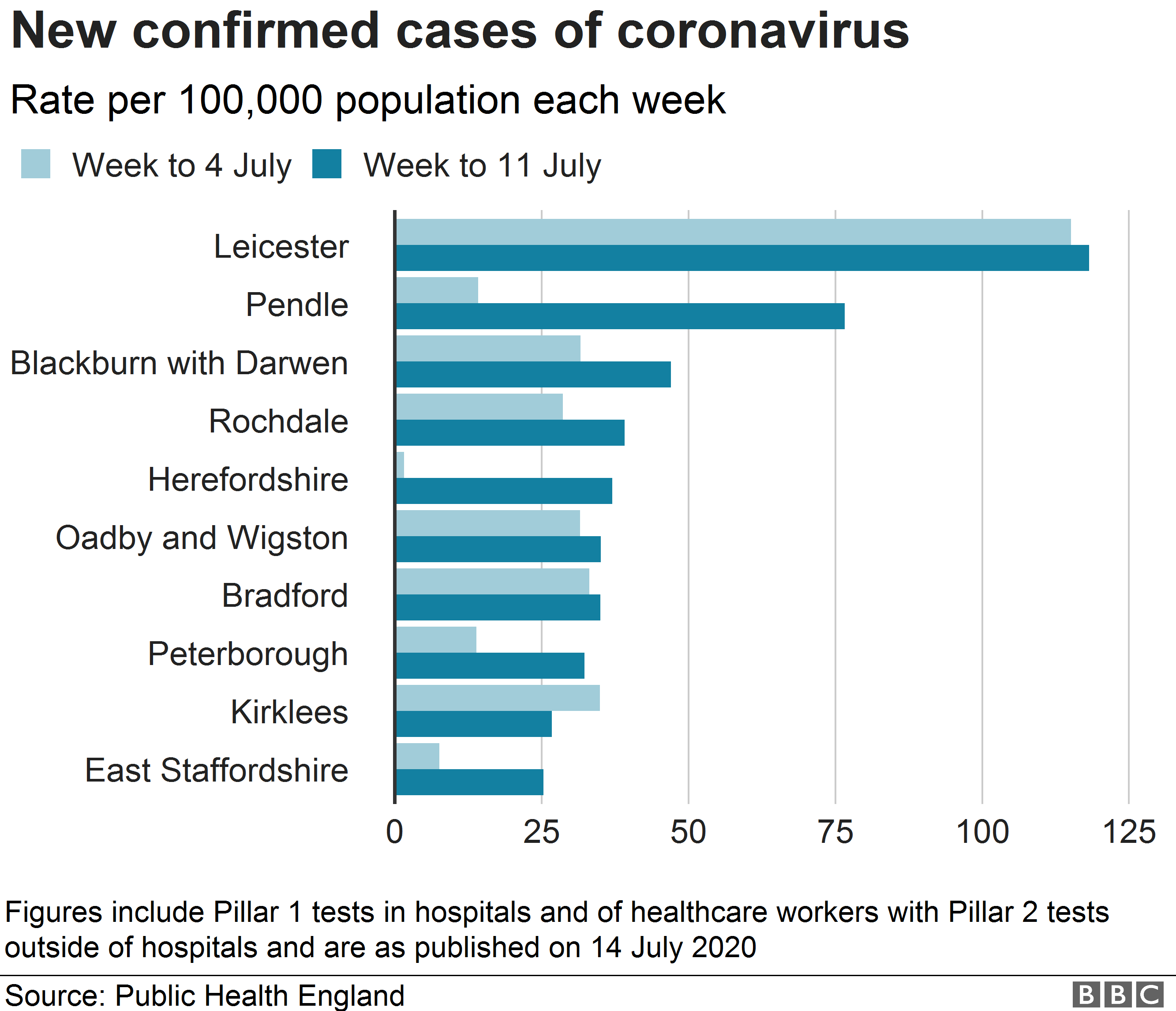 But the spike in Pendle has subsided again. Health officials say that more than half of Pendle's new cases for that week were confirmed over two days and numbers have fallen again since to about six or seven a day.
(It's worth noting that testing is still patchy across England so these numbers should be taken with a grain of salt. They may not accurately reflect the local picture.)
New rules for Blackburn with Darwen from today
• A limit of 2 people from the same household allowed to visit another household
• Wear face coverings in all enclosed public spaces
• Avoid hugging or shaking hands with anyone outside of your immediate family
• Small shops - guidelines on face coverings, social distancing, good hygiene and increased ventilation to be strictly enforced.
• Get tested - even if you don't have symptoms this will help with case finding.
(A mobile testing unit is in Pendle until Sunday 19 July, as previously planned. Tests are free and open to people of any age.)
People are generally reminded to:
• Stay at home if you or anyone in your household has any symptoms of Coronavirus
• Wash your hands regularly using soap and water or hand sanitiser
• Keep 2m distance from people not in your household
• Avoid handshakes and embracing when meeting others
• Wear a face covering in enclosed spaces
• Avoid or limit large extended family gatherings inside
Do you know more about what's going on? Contact us at Barfi Culture
About us
Barfi Culture is a news-magazine on people of South Asian heritage living in Europe and North America. We don't cover South Asia directly.
Sign up!
We publish Updates and Articles to our website every day. At 5pm every Monday - Friday we also post them to email, WhatsApp and social media.
We also share news, pictures, videos and memes more frequently on social media. Sign up with whatever you feel most comfortable! Either way your privacy is protected.
WhatsApp (once a day)
Your number will never be shared.

Facebook (daily)

Instagram (daily)